Airflow Tester User Registration Outline
Registered users will receive useful information, such as notifications about calibration time and support information.
Product Warranty
Warranty Period: 1 year
This warranty covers damage caused by defects in production and materials for a period of one year from the date of delivery.
Note: Please check here for warranty regulations.
Calibration time notification
We recommend yearly calibration (a fee will be charged) of the Airflow Tester to maintain measurement accuracy.
Customers who have completed user registration will be notified of calibration by email approximately one year after the delivery date, or since the date of last calibration.


Software Download
Users can download the latest version of the data viewer software for checking Airflow Tester measurement results.
Display example: For P-Q performance, display based on catalog data.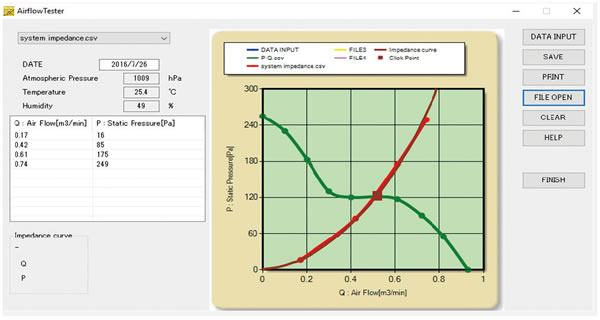 Register within One Month from the Date of Delivery
User registration requires the model no. and serial number from the nameplate of your product.
Please confirm and register them in the user registration form.