President's Message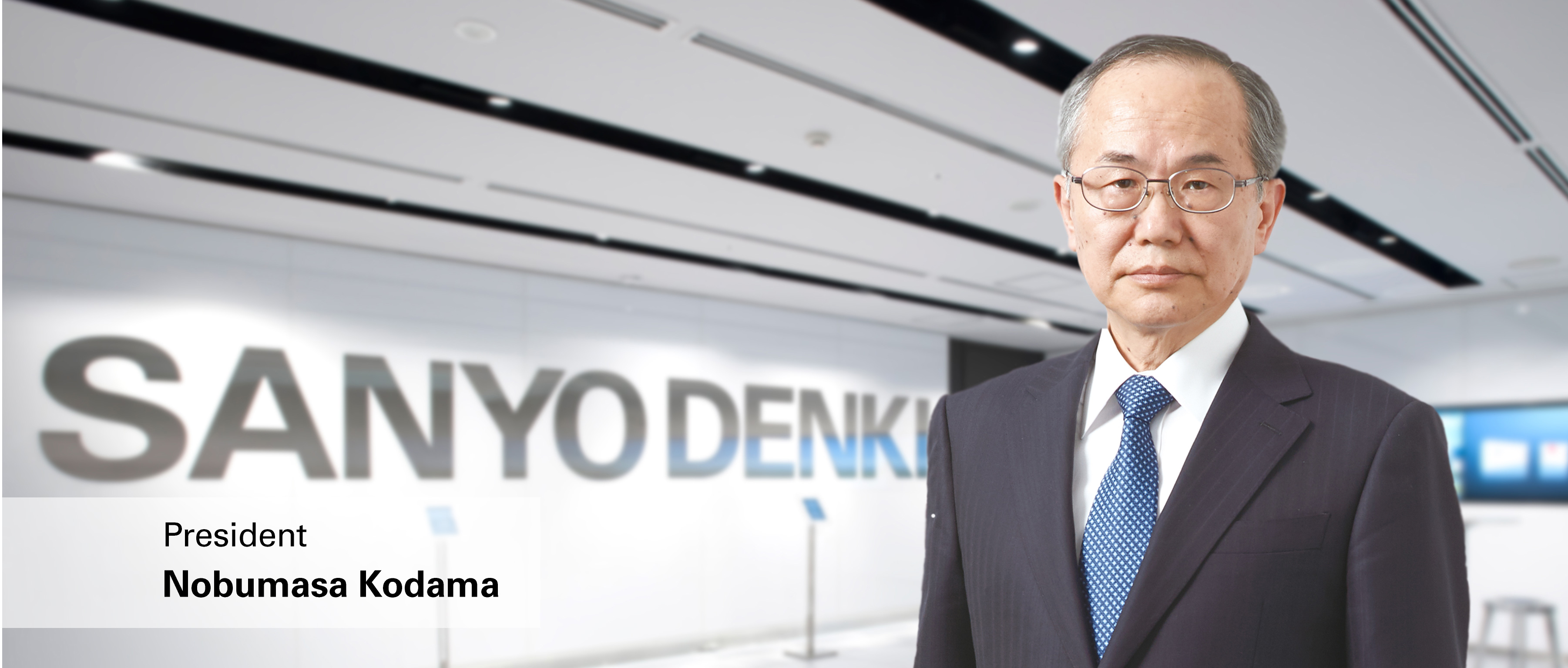 Selecting a company during job hunting represents the beginning of a significant new stage of life.
Your work will come to occupy a great deal of your life subsequently, so selecting the right company to make your new start is incredibly important.
Our website provides an easy-to-understand introduction to Sanyo Denki. You can view our corporate philosophy, areas of business, management policies, products, HR systems, training systems, etc., to gain a better understanding of what Sanyo Denki is like.
At Sanyo Denki, we aim to be a company that helps people to be happy.
We also hope that our employees will hone themselves, improve their abilities, and achieve self-realization through their work and company life.
All kinds of work is available at Sanyo Denki. Our work is innovative and offers ample scope for change, working globally and in real time with our clients and suppliers around the world. Changes in the global economy and world affairs can change our supply chains instantly, and changes in global technology connect immediately with our technological development. Sanyo Denki is a company that is active in an era of change.
And amid this era of change, we hope that each and every one of us keeps working to improve our strengths. This leads to self-fulfillment. We want everyone to maintain awareness and devote efforts on a daily basis to pushing forward, even if only a little at a time. Looking at our work in product development, Sanyo Denki aims to develop new technologies and products that work toward happiness for all. Our primary mission is to help the clients and wider society who use our products.
To achieve this goal, Sanyo Denki products are developed with the theme, "The world's leading product development." Our performance, quality, and reliability are number one worldwide.
One distinctive aspect of Sanyo Denki's business is its closeness to the market. The market environment is constantly changing and its speed is accelerating. Even in this kind of environment, Sanyo Denki displays flexibility in bringing the best products in the world to market. We also have expertise in customizing development tailored to each client's equipment.
Our products not only help improve the performance of our clients' devices and supply power to communications and monitoring systems, but also contribute to energy-saving and environmental conservation. We hope to remain a company that contributes to society by helping people with useful products.
We sincerely welcome all those who share our philosophy and are eager to play an active role at Sanyo Denki.